After spending the past 6 months in perpetual motion with work, it was great to split after thanksgiving to get some needed rest & relaxation with my family. Cabo San Lucas, Mexico is a short 3 hour flight from San Francisco.
While the party town of San Lucas is not my thing, the slower pace of San Jose del Cabo was exactly the sort of quick tranquil get away that I needed. Being a visual person, you can see below how the colors of southern baja go a long way to refill my tired human fuel tank.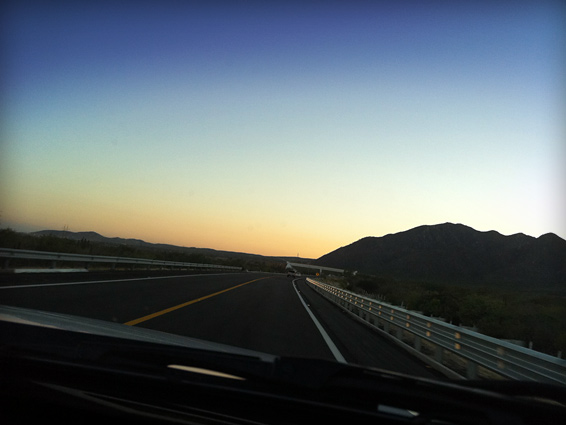 Arriving in Cabo, the beautiful desert mountains at dusk immediately set a nice mood for a short but sweet taxi ride to Cabo Azul in San Jose del Cabo.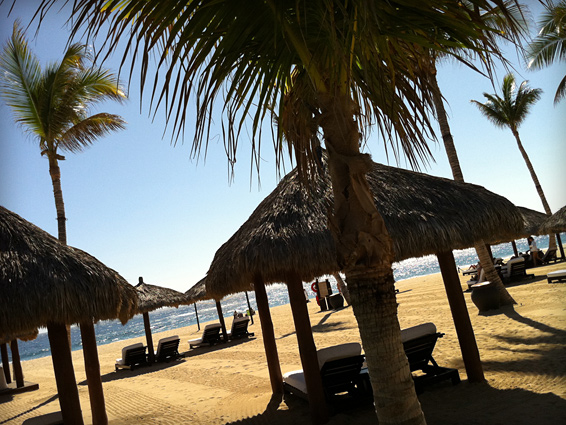 Cabo Azul is a beautiful place with a series of plush horizon pools that terrace down to it's beach front. While the pools are nice, my little man and I began our morning with a hike up the beach to explore for sea shells.
One of my favorite parts of a warm climate are the lush tropical plants and flowers that bring pleasing visuals and smells to go along with the sand in your toes and salt water in the air.
The sharp contrast of king palms and Baja shade make for a great silhouette as the sun goes down over Palmilla beach from Javier's restaurant. That along with my beautiful date, silly 4 year old clone and a plate of Camarones a la Diabla… and this night was perfection
Warm lights and cool shadows dance along the rocks leading up to the Archs monument during an evening dinner cruise.
Just around the bend – it is easy to see what makes this spot such a favorite for whales, surfers and post card photographers!~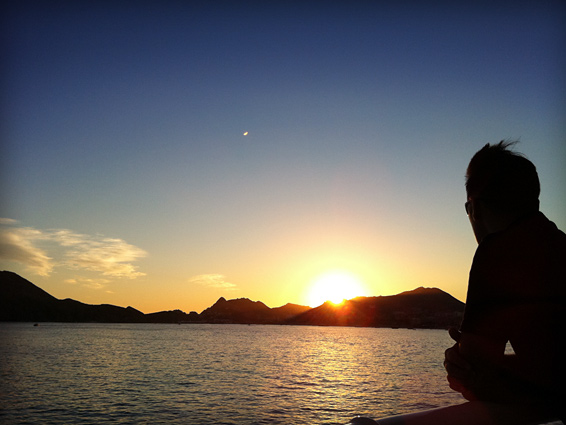 This shot that my wife took sums up what I loved about my time on this adventure… simply soaking it all in with a warm sun on my face and cool pacific breeze in my hair.
After cruising up the coast a bit – We turned around at this point and enjoyed this backdrop while a small pod of humpback whales led our boat back into the bay for dinner. While they did not fully breach, they did come up for deep breaths revealing their backs and big splash with their immense tails.
While the expression suggests that one stop to smell the roses, I stand by my belief that that a hibiscus will do just fine. It smells just as sweet and it's leaves are softer, prettier and it has no thorns.
With a nice tan and a fresh perspective we wait outside in the warm sun to board our chariot home.  Like the flight, the get away was quick… but the slow pace and beautiful colors of Baja were just what this pixel man needed to cool my jets and recharge my imagination.